Join Us!!! Sunday Worship 9:00am – Sunday School 10:30am
Check us out on FaceBook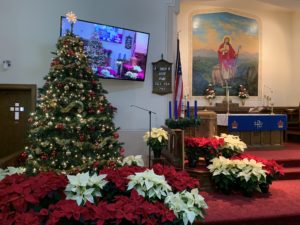 Candlelight Worship on
Christmas Eve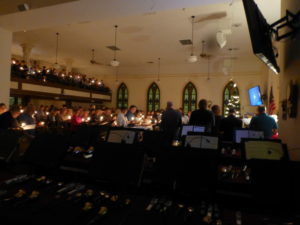 Christ the Savior is Born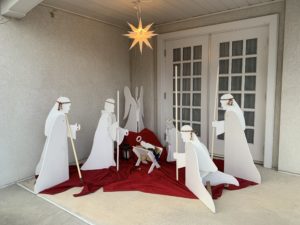 We are glad you visited our site today
and
welcome you to worship with us!
Wear your favorite football team shirt/colors and join us on February 2 for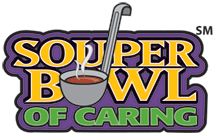 as we share God's love with those in need while we enjoy the Big Game.
Heifer International Campaign
Wear your favorite animal themed shirt/outfit to Worship!
Will you help us help animals?
February 2 & 16
Worship at 9:00 am
CRAFT EVENT
February 16
at 1:00 pm
Sign up by Feb 9 to make Dream Catchers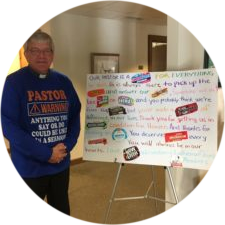 Pastor Ray's Retirement on February 23, 2020
his last Sunday worship service after 36 years as our wonderful Pastor;
with
special music and guests. Congratulations on your Retirement starting March 1!
February 26
Lenten Meal at 6:30 pm
Don't miss this exciting program for ages 4 thru 6th grade.
Who was the greatest female financier in the Bible?
Pharaoh's daughter.
She went down to the bank of the Nile and drew out a little prophet.
Happy Anniversary – 2020 marks our 271st year from the founding of our congregation and is our 36th year of our 2 congregations from the former Union church becoming 1 Lutheran congregation!
It is also Pastor Hand's 36th anniversary at Weisenberg; he started serving as our pastor on January 1, 1984. Now that's a lot to celebrate!!!
Communion

– 1st and 3rd Sunday in February. We welcome you to partake in the Lord's Supper!
Sunday School Classes – Meet regularly each Sunday at 10:30. Nursery thru Adult. Join us anytime!
Food Pantry/Blessings Shop – Looking for hamburger helper, cake brownie mixes, cereal and all sizes of children's spring clothing.
Line Dance Exercise Class – Meet every Thursday from 6:15 to 7:15 pm. Join us when you can; take a break when you must.
Craft Event – make dream catchers with 2 different sizes to choose from on February 16 (snow date February 23.
Iron Pigs Baseball Game – On Saturday, July 18 we will root for the home team on the 3rd base side. See Sandy W if interested in attending this congregation wide event.
Bishop Sam Zeiser Retirement Luncheon – Sign up by January 26, 2020 to attend this special occasion on May 17, 2020 at 2:00 pm at the Northampton Banquet & Event Center. Adults are $30 and children under age 13 are $28; payment by March 22, 2020.
Lenten Meal of Hope – On Wednesday, February 26 at 6:30, all are welcome for soup and bread prior to the Worship service. Proceeds to Lehigh County Conference of Churches Soup Kitchen. See Kathy if willing to donate soup or bread and bring to church by 6:00 that evening.
Bear Creek Camp – Early Bird Discount of $15 is available until March 1. Sign up your child for a week of camp with 8 sessions to choose from. See Denise for questions.
Chicken Dinner and Bake Sale – Youth Group Fundraiser will be held on Sunday March 29. Must pre-order and pre-pay for dinners which can be picked-up from 10:30 to 12:30. Drive-thru available for Dinner and Bake Sale.
Stewardship – Many opportunities are available to give of your time, talents and treasures. Sign-up sheets are available at church; join a committee, be a greeter, sponsor worship bulletins, sponsor altar flowers, be a lector, bake bread for communion, provide snacks for fellowship time & more.
Weisenberg Lutheran Church | 7645 Weisenberg Church Road, New Tripoli, PA 18066 | 610-298-2437
WeisenbergLutheranChurch@gmail.com | 2018 Copyright | All Rights Reserved