Join Us!!! Sunday Worship at 9:00am

LIVE

on Facebook
We are proud to share a musical performance by two of our members, who have generously shared their musical talents during our isolation. Derek arranged the music to a favorite Easter hymn in a more modern fashion which was released on April 24.
Click here to enjoy "All Creatures of our God and King"!
Flute – Dayna Dengler Keyboards/Guitars/Drums – Derek Dengler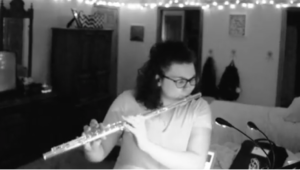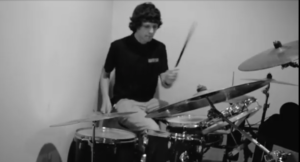 Click here to enjoy "Ode to Joy",
another hymn that Derek arranged for our Music Sunday Worship Service on May 17.
Flute – Dayna Dengler Piano-Danielle Dengler Keyboards/Guitar/Drums – Derek Dengler
WE NEED

YOUR

HELP to determine plans for Vacation Bible School 2020.
We are looking for past volunteer and participant input
to help us consider the fate of this years event.
Click Here for Short Questionnaire.
Thank You for your participation!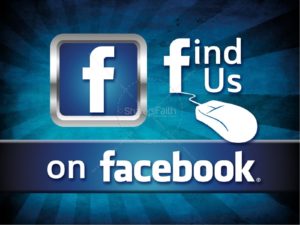 Weisenberg Lutheran Church
Worship is offered Remotely, Children's Sunday School and other on-site gathering events are Cancelled until further notice!
Please give names of ALL graduates (high school, college, technical school)
to Bambi so we can recognize them at a date tbd.
RETIREMENT NEWS!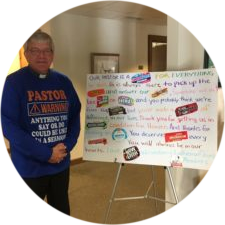 We honored and celebrated Pastor Ray on his last Sunday service, February 23 for being our beloved pastor of 36 years.
He was called to us January 1, 1984 and began his retirement on March 1, 2020.
His no-longer-a-surprise

Retirement Celebration Party is re-scheduled for September 20 Noon to 4

.
for your endless compassion and boundless leadership.
You are going to be dearly missed. Godspeed and Best Wishes on your Retirement.
A Very Different Easter 2020
unlike any in the memory of any of our members. Our churches will be empty and our houses will not have family gatherings of any meaningful size. Yet, this Easter will not be that different from the first Easter. Read Matthew 28:1-10 or John 20:1-18; there are some deeply resonant similarities.
There were no crowds gathered to celebrate Jesus resurrection. The crowds greeted Jesus as a hero at the beginning of the week, but by weeks end condemned him as a criminal and jeered him on his lonely march to the cross. That
first
Easter had a very small gathering. These small groups – well under the current limit of ten people per gathering, were the first witnesses to the resurrection, the first invited to worship the One who embraced death in order to defeat it. The rest of the disciples lived in isolation and fear, still reeling from the brutal heartache and loss they experienced two days earlier, unsure of what the future held, unable to imagine their lives ever returning to normal.
So perhaps this is a place to start…with how much more similar this Easter season is that we are experiencing to that first Easter. God never promised that our worship services would always be grand, our churches would overflow, our economy always growing, our health guaranteed or our lives and future would unfold as we had hoped and planned.
God is
with us and for us at all times and through all conditions; in sorrow or joy, triumph or tragedy, gain or loss, peace or fear, scarcity or plenty.
Like the disciples who were named and sent by Jesus, found their faith and courage not simply to survive but to flourish and change the world, may we too be ones to do the same.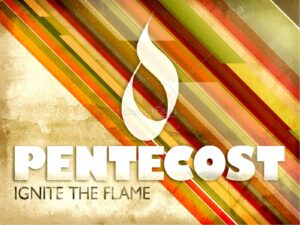 SUNDAY
MAY 31 at 9:00 AM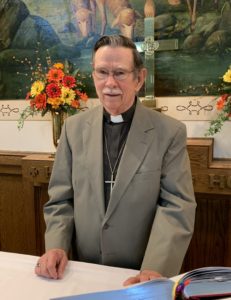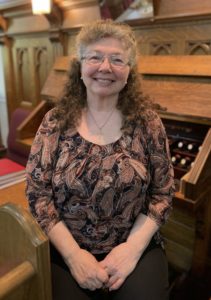 Worship with us together from your home, as we celebrate Pentecost, the gift of the Holy Spirit and the birthday of the Christian Church.
"God's Personal Presence"
Select Virtual Bulletin
There will be NO
Children's Sermon or
Zoom Social on May 31.
Social Hour on ZOOM
Grab your coffee, breakfast treat, your furry friends, little ones and loved ones and join us for some conversation. Download zoom on your phone or computer at https://zoom.us/j/
Turn on your mic.
Contact Cheryl G for info.
was held on Sunday, March 22. Click here to view or find this and more on

our Facebook page
.
JOIN US FOR
and bread and partake the elements with us.

IS

still up and running and has no DIRE need since they are still getting things from Second Harvest.
The pantry wants everyone to remain safe, but while you are shopping, if you want to buy items listed below or donate gift cards, the pantry will put racks outside the building to drop off items on
They have moved to a curbside service to keep volunteers and clients safe.
Items they could use now

:
instant or scalloped potatoes,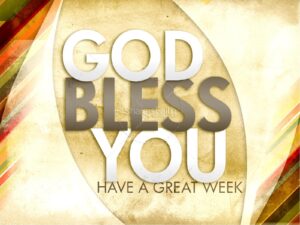 WE LOOK FORWARD TO WORSHIPPING WITH YOU IN PERSON
As the Coronavirus continues to unfold, know that the same everlasting Father who cares for you today will take care of you tomorrow and every day. Either He will shield you from suffering or He will give you unfailing strength to bear it.
Godis always with you.
As we face uncertainty of what lies ahead, we will shoulder this together. If you are able and willing to help someone I need, contact Karen from Social Ministry. Please kee in contact with those that may be isolated thru texts, e-mails or a phone call, and continue to share your stewardship as best you can.
If you cant do what you do,
do what you can.
Let us know ideas to keep connected during this time of social distancing.
A Prayer from Presiding Bishop Elizabeth Eaton
God,
our peace and our strength, we pray for our nation and the world as we face new uncertainties around coronavirus. Protect the most vulnerable among us, especially all who are currently sick or in isolation. Grant wisdom, patience, and clarity to health care workers, especially as their work caring for others puts them at great risk. Guide us as we consider how best to prepare and respond in our families, congregations, workplaces, and communities. Give us courage to face these days not with fear but with compassion, concern, and acts of service, trusting that you abide with us always, through Jesus Christ our Lord.
Amen.

2020 Stewardship Challenge
to challenge you to a Christian Lifestyle.
Can you complete each weekly activity?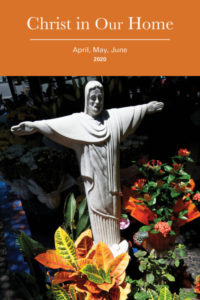 through June 30. Click pic to sign up for daily delivery to your inbox at 4:00 am OR
contact us for a copy OR
pick up a pamphlet on our porch in a container on the bench.
Tentative plans are to open early July.
Definitive answer will be made by June 1.
SUNDAY SCHOOL PICNIC
for June 6 and 7 is
CANCELLED
We are glad you visited our site today and welcome you to worship with us!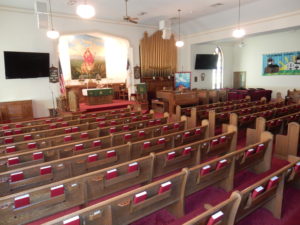 Reach out to us on Facebook or
What's the difference between Jesus and Pizza?
CANCELLATIONS AND POSTPONEMENTS
Pastor Rays Retirement Celebration

for Sunday, March 22 has been postponed to May 1 which was postponed to September 20.
Chicken Dinner

for Sunday, March 29
has been postponed.
Spaghetti Dinner and Basket Raffle for Sunday, April 19 has been postponed.
Bishop Zeiser Retirement Luncheon

for Sunday, May 17 has been postponed.
Synod Assembly 2020 has been postponed
from June 4-6 to October 22-24. Bishop Zeiser will continue to serve until a new bishop is elected.
Sunday School Picnic for Saturday, June 6 and Sunday, June 7 has been cancelled.
Creation Festival for June 24-28 has been cancelled. However, check out their online event on June 26 & 27 starting at 6pm on Facebook live for two nights of special appearances, live performances, messages and classic footage from Creation over the years that will inspire with Hope, connect us through Love, and bring Joy through music and community.
Weisenberg Lutheran Church | 7645 Weisenberg Church Road, New Tripoli, PA 18066 | 610-298-2437
WeisenbergLutheranChurch@gmail.com | 2020 Copyright | All Rights Reserved