Join Us!!! Sunday Worship 9:00am – Sunday School 10:30am
Check us out on FaceBook
RETIREMENT NEWS!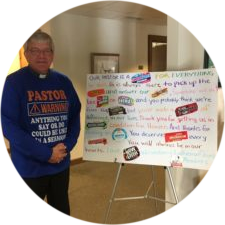 We honored and celebrated Pastor Ray on his last Sunday service, February 23 for being our beloved pastor of 36 years. He was called to us January 1, 1984 and began his retirement on March 1.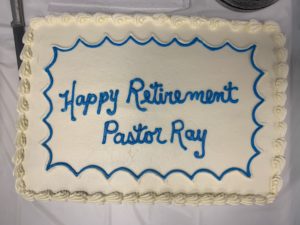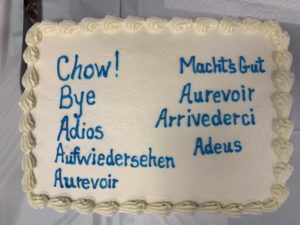 for your endless compassion and boundless leadership.
You are going to be dearly missed. Godspeed and Best Wishes on your Retirement.
We are glad you visited our site today
and
welcome you to worship with us!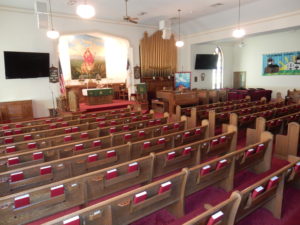 Reach out to us on Facebook or weisenberglutheranchurch
MARCH 29 at 9:00 AM
5th Sunday of Lent with Pastor Guy & Marie
Worship together from your home. Sing along with the hymns listed here.
We are planning some favorite activities electronically such as a sing-a-long, childrens message, and even a remote egg hunt for the kids so check back often as we implement new ways to keep connected during this time of social distancing.
E-mail your favorite hymn for the sing-a-long by April 5 to weisenberglutheranchurch
@gmail.com and we will include as copyright allows.
We held our first Remote Worship on Sunday, March 22. Click here to view or find us on our Facebook page.
A prayer from Presiding

Bishop Elizabeth Eaton
God, our peace and our strength, we pray for our nation and the world as we face new uncertainties around
coronavirus. Protect the most vulnerable among us, especially all who are currently sick or in isolation. Grant wisdom, patience, and clarity to health care workers, especially as their work caring for others puts them at great risk. Guide us as we consider how best to prepare and respond in our families, congregations, workplaces, and communities. Give us courage to face these days not with fear but with compassion, concern, and acts of service, trusting that you abide with us always, through Jesus Christ our Lord.

Amen.
10:30 AM to 1:00 PM
Date TBD when safe to hold. Tickets will be honored on rescheduled date or contact your seller for a refund.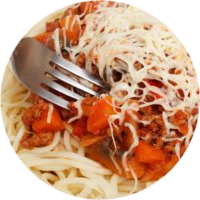 April 19
has been POSTPONED!
We Celebrate with our neighbor, New Life Evangelical Lutheran Church on the call of The
Rev. Lauren M. Applegate.
Her installation on March 15 has been postponed to this summer. May God richly bless their
congregation.
March 29
Building is Closed!
Sunday School and
Other Gathering events
are Cancelled until
further notice!
As the Coronavirus continues to unfold, know that the same everlasting Father who cares for you today will take care of you tomorrow and every day. Either He will shield you from suffering or He will give you unfailing strength to bear it.
As we face uncertainty of what lies ahead, we will shoulder this together. If you are able and willing to help someone in need, contact Karen from Social Ministry. Please keep in contact with those that may be isolated thru texts, e-mails or a phone call, and continue to share your thoughts and stewardship with the following projects:
As part of the Pastor Transition, we ask all members and visitors take this short 15 question survey.
We are also looking for sentence form input to help us find a good pastor fit.
Click on each title to print the survey/questions. Mail or e-mail to us no later than March 29.

Info to mail/e-mail is at bottom of page.

Social Ministry Committee
Click on the Title for info to collect 1 food item for 40 days of Lent and help Local Families in Need
.

52 activities to challenge you to
a Christian lifestyle.
Can you complete each weekly activity?
Don't miss this exciting program with music, games, crafts, songs, skits, bible stories and lots of fun surprises as we learn about Jesus.
Who was the greatest female financier in the Bible?
Pharaoh's daughter.
She went down to the bank of the Nile and drew out a little prophet.
CANCELLATIONS & POSTPONEMENTS

:
Assembly 2020 has been postponed from June 4-6 to October 22-24. Bishop Zeiser will continue to serve until a new bishop is elected.
Farm Family Appreciation Dinner for Saturday, March 21 has been cancelled.
Pastor Ray's Retirement Celebration

for Sunday, March 22 has been postponed to Friday, May 1.
NEPA WELCA Spring Justice Retreat for Saturday, March 28 has been cancelled.
Chicken Dinner for Sunday, March 29 has been postponed.
Spaghetti Dinner & Basket Raffle for Sunday, April 19 has been postponed.
Bishop Zeiser Retirement Luncheon for Sunday, May 17 has been postponed.
Synod Assembly 2020 has been postponed from June 4-6 to October 22-24. Bishop Zeiser will continue to serve until a new bishop is elected.
Happy Anniversary – 2020 marks our 271st year from the founding of our congregation and is our 36th year of our 2 congregations from the former Union church becoming 1 Lutheran congregation!
It was also Pastor Hand's 36th anniversary at Weisenberg; he started serving as our pastor on January 1, 1984 and retired on March 1, 2020. Now that's a lot to celebrate!!!
Communion

– 1st and 2nd Sunday in April which is Palm Sunday and Easter. We welcome you to partake in the Lord's Supper!
Sunday School Classes – Meet regularly each Sunday at 10:30. Nursery thru Adult. Join us anytime!
Food Pantry/Blessings Shop – Looking for any/all items. As you go through spring clothes or kitchen cupboards, always remember they can use any items in good condition
.
Line Dance Exercise Class – Meet every Thursday from 6:15 to 7:15 pm. Join us when you can; take a break when you must.
Bear Creek Camp – Early Bird Discount of $15 is available until March 1. Sign up your child for a week of camp with 8 sessions to choose from. See Denise for questions.
Iron Pigs Baseball Game – On Saturday, July 18 we will root for the home team on the 3rd base side. See Sandy W if interested in attending this congregation wide event.
Bishop Sam Zeiser Retirement Luncheon – POSTPONED! Sign up by January 26, 2020 to attend this special occasion on May 17, 2020 at 2:00 pm at the Northampton Banquet & Event Center. Adults are $30 and children under age 13 are $28; payment by March 22, 2020
Stewardship – Many opportunities are available to give of your time, talents and treasures. Sign-up sheets are available at church; join a committee, be a greeter, sponsor worship bulletins, sponsor altar flowers, be a lector, bake bread for communion, provide snacks for fellowship time & more.
Weisenberg Lutheran Church | 7645 Weisenberg Church Road, New Tripoli, PA 18066 | 610-298-2437
WeisenbergLutheranChurch@gmail.com | 2020 Copyright | All Rights Reserved