As of March 1, 2020 we are in a pastor transition phase. Supply pastors were being provided by the Synod while our church doors were opened. Due to Covid-19, we closed our building after the March 15 service and have been offering Sunday worship thru Facebook LIVE each week. A member of our congregation, Pastor Guy Grube is our Virtual Pastor or our 'VP' as we bring worship to our members thru technology.
We are blessed to welcome Pastor Jerel Gade or 'PG' as our Interim Pastor starting August 2. He will lead his first service on August 9. We look forward to his serving our congregation while we continue the search for a called pastor.
We pray for faith that our next pastor is out there and we will find each other.
If interested in the pastor position, contact the Northeast Pennsylvania Synod.
Other inquiries may be given to our Council President,
Nancy Kressley at 610-298-8550.
Church Office – 610-298-2437
Church E-mail – weisenberglutheranchurch@gmail.com
Pastor E-mail – pastoratwlc@gmail.com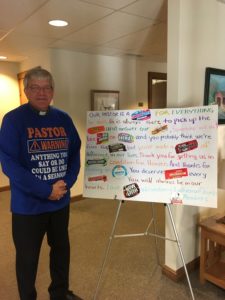 PASTOR RAYMOND HAND
January 1, 1984 to February 29, 2020
PASTOR RAY is a native of Tower City, PA, a graduate of Susquehanna University and the former Lutheran Theological Seminary at Gettysburg. He credits the people of St. Paul, Tower City, with putting him on the road to ministry, having been baptized,
confirmed and ordained there, along with his twin brother, Pastor Harold Hand, Jr. who recently retired from serving Trinity Lutheran, Pottsville, PA.
PR has been happily married since 1975 to Gail (Elser) Hand. They have four children: James, Virginia, Stephen and Thomas, seven grandchildren: Tristan, Kinsey, Colin, twins Mason & Alyson, Sean and Declan and also one great granddaughter, Everlee.
He was blessed to serve Jacob's-Outwood Lutheran Parish, Pine Grove, PA from 1978-1983. He has been thankful to be serving Weisenberg Lutheran Church since January 1, 1984, especially for all who have shared their faith in many and various ways.
PR visits Facebook regularly (some would say too much), loves baseball and the San Francisco Giants (a fan since the early '60's), is fascinated by the Civil War, enjoys politics, has a mind for useless trivia, has more books than he can sometimes handle, and treasures time spent with family.
God has blessed him with a rich, full life, and a faith which is a most welcome companion along the way throughout the journey.
Click here for article/pictures from Pastor Ray's
35th Anniversary Celebration