Weisenberg Hilltoppers Softball Team
2019 Lehigh Valley Church Softball League Champio
ns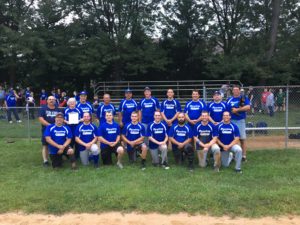 The 2019 season began April 30. And how quickly the summer games have flown by.
The team ended the Regular Season with 21 Wins and 1 Loss a
nd won the semi-final (13-5) and the final play-off game (15-13)
.
Thank You to the huge base of fans that always come out and support the Hilltoppers!
Congratulations on a great regular season (21-1) and
winning all 3 play-off games to capture the 2018 title
and for being presented the 2018 Faith Fellowship and Sportmanship Award!!!
Thanks to all the fans for supporting the Hilltoppers!!!
To view our regular season schedule,
click here and select "Season Schedule"
(but note that this site is under construction).
Free summertime entertainment and fellowship is provided by our very talented softball team playing in the Lehigh Valley Church Softball League (LVCSL) from its inception in the year 2000. Although they are competitive, the team has represented great sportsmanship and has always received fantastic comments from team leaders around the league on the amount of supporters (fans) the team has at its games.
The team, comprised of all Weisenberg Lutheran Church members, enjoys worshiping in Christ amongst each other and with the other teams in the league, proudly representing our church as stewards of Christ with a fine record of sportsmanship and positive spirit.
Manager – John Reinert
2013 Lehigh Valley Church Softball League Championship Team