YOUTH GROUP ORGANIZATIONS AND ACTIVITIES
We offer 3 youth groups to provide an additional venue for our children to learn and grow in their relationship with God while also growing their relationships with each other through fun activities. Each group also creates crafts for our shut-ins and participates in worship at various times during the year. The Junior High and Senior High Youth Groups also participate in service and overnight events like retreats, mission trips and gatherings (locally and nationally). We offer Fundraising opportunities throughout the year to supplement overnight event expenses because these events carry a higher cost.
To learn more about each group and what they do during the year, click on the appropriate box shown below.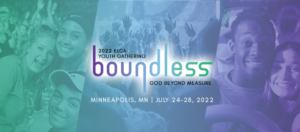 NEW DATE
:
Tri-Annual Gathering
in Minneapolis
has been postponed to
July 24-28, 2022
and they will continue with the regular schedule with the next
Tri-Annual Gathering being held in 2024.
Youth in grades 8-12
as of September 2021
are eligible.
We will hold fundraisers to help offset costs.
OUR LEADERS HAVE MISSED YOU ALL! WE ARE EXCITED THAT WE ARE NOW READY TO BEGIN PLANNING EVENTS FOR US TO WORSHIP, SERVE, AND GROW IN OUR FAITH TOGETHER AGAIN!!!
The schedules for the Elementary and Senior High Youth Groups have been updated for 2021-2022 (click on the appropriate box below), but a summary of Upcoming Events are listed here:
Sunday 10/10 – 8 & 11:15 am in Church Basement – Youth & Parents of 8th-12th Grade
–
INFORMATION MEETING for ELCA YOUTH GATHERING Summer 2022.
Commitments are due October 24 so it's very important to attend this meeting!
Sunday, 10/17 – After worship in Church Basement – Parents of Jr & Sr Hi Youth
–
Fundraising Meeting to plan events for the year.
Sunday, 10/17 – SR HI Youth
participates in worship in celebration of Children's Sabbath.
SR HI & JR HI Leave for Blue Rocks Campground after Fundraising Meeting
to have lunch/hike boulders/campfire with smores.
Elementary Advisors
We are in need of an advisor. If interested, please see Marcella Breininger
marcellabreininger@yahoo.com
Junior High Advisors
Marcella Breininger
marcellabreininger@yahoo.com
Karla Mertz
Senior High Advisors
Sandy Waldron
610-799-6913 waldron@ptd.net
Lindsay (Herman) Blomstrom
Amy Breininger
Derek Dengler
Jessica Friday
Jessica.Friday75@gmail.com
Felisa Leith
David Vincent
Elementary
Youth Group
Schedule
Grades K – 5
Junior High
Schedule
Grades 5 – 8
FUNDRAISING MEETING
October 17 -after worship
To plan events for the year.
> Grocery Gift Cards
–
Giant & Weis gift cards ($10, $20, $25, $50 & $100) are available for purchase at full value; youth earns 5% of each card. Contact Bev to place an order and arrange with her for payment and pick up of cards OR you may purchase cards during the social hour.